Solution Engineering Tool (SET™)
Thinking as a Service™.
The only way to get… Authentic Intelligence™.
The hybrid workplace is here to stay, and the companies that embrace its opportunities will be poised to find the most value. The Solution Engineering Tool, or "SET™" for short, is a software that enables the success of your organization's business pursuit teams through the essential activities of the business acquisition lifecycle. It is a force multiplier to your company's overall business growth.
SET helps business development, capture management, and proposal executives do the necessary strategic thinking to win federal, state & local, and commercial bids ─ even recompetes. SET is available as a Cloud (i.e., on-demand) or on-premises software and just in time for the "Future of Work" ─ today.
With SET, you can sharply and concisely answer the most important question when submitting a competitive bid.
Increase Confidence in Wins ⬥ Lower Cost of Capturing Business ⬥ Expand Company Value

The Solution Engineering Tool (SET) is a hybrid business development, capture management and proposal development software that implements a proven framework for developing winning competitive government bids. SET enables better analysis for those supporting the pursuit, ties strategies to tactical actions and vice versa, and improves your overall proposal quality.
Government contracting companies can spend significant time and effort developing opportunity/capture plans for strategic pursuits. But these efforts are wasted if intelligence and strategies aren't applied to a bid. SET is a systematic and structured approach that provides an automated and unified approach to help pursuit teams get the most from their opportunity/capture efforts and make sure winning strategies and compelling arguments are transferred into the bid to score the most points with evaluators. The SET software can help your team plan and develop winning government bids.
SET provides a discriminating competitive advantage. As a hybrid business development, capture management and proposal development tool, SET enables better decision-making during the opportunity assessment, capture, and proposal planning phases of your business pursuits. It helps capture the pursuit's necessary up-front evidence-based thinking and facts. This in turn helps improve the probability of winning the pursuit. More important, SET helps increase overall company value because it stores the rich context of how and why a deal was bid. SET is for executives, business developers, capture managers, proposal managers, project managers, technical staff, and other staff at your company who are tasked with winning government business.
SET is a Cloud or on-premises-based automation of the Solution Engineering Framework™ that enables the success of companies of all types and sizes. It does not matter if your company is a professional services firm; plays in the audit and advisory space; is a consultancy, technology company, or a systems integrator, SET is for you. The size of your contract does not matter. Whether the total value of your competitive pursuit is $1M or $1B, SET's 61 distinct tools can be used end-to-end, piece-part, or in any combination to help get your company to the win. SET is the ideal tool for business development, capture management and proposal development , whether your company has 10 employees or 1,000. It is designed to enable the success of your company with its competitive bids and recompetes. In addition, SET is able to be used globally for both business-to-government (i.e., federal, state, and local) and business-to-business competitive pursuits alike.
SET quantitatively measures on a daily basis the growth status of your company so that there is "no ambiguity" between projections and outcomes. SET allows business development professionals capture managers, and proposal managers to self-educate with tutorials and insights to better leverage the approach and tools–perfect for those new to pursuits or as a trigger to remind and remember.
In addition, SET's regular use as a business development, capture management and proposal development tool builds a company-internal data lake of competitive intelligence and captures the intellectual capital of all contributors to pursuits enterprise-wide. ─ Win or Lose, SET builds your company's value.
SET helps your company answer many important questions that  are key to winning its next competitive pursuit.
SET delivers a Cloud-based or on-premises collaborative environment for competitive pursuit analysis and strategy & solution development.
SET provides business development executives, capture managers, and proposal managers unified strategic analysis & win strategy in a single view―a "Blueprint to Win"
SET allows full transparency into the quality of your company's business development & capture efforts
SET enables continuous enterprise value creation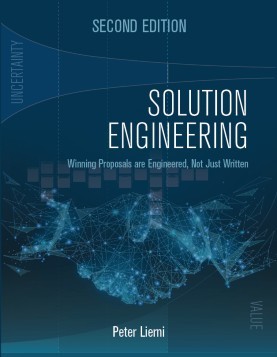 The Solution Engineering Tool (SET) is an automation of the industry-proven Solution Engineering Framework™ and described in the book "Solution Engineering", authored by Peter Lierni. as described in the book Solution Engineering, authored by Peter Lierni.
"It is not the answer that enlightens, but the question."
―Eugene Ionesco (French-Romanian playwright)
The SET hybrid business development, capture management and proposal software is for growth-focused companies.